Implant Supported Dentures
A dental implant is an artificial tooth root that is placed into your jaw to hold and support a denture. An implant-supported denture is a type of overdenture that is supported by and attached to implants. A regular denture rests on the gums, and is not supported by implants. If you have lost your teeth, dental implants offer a practical replacement option that feels the most like real teeth. Working alongside our dental team, BG Denture & Implant Restorative Centre will design dentures for your implants. We take the time to evaluate your dental health history and design your dentures over implants that are comfortable and secure. We can create your smile by design using state of the art technology and materials. Treatment options with dental implants is always patient specific. You owe it to yourself to be informed as possible about these options. Please call our office for a consultation to address your specific needs.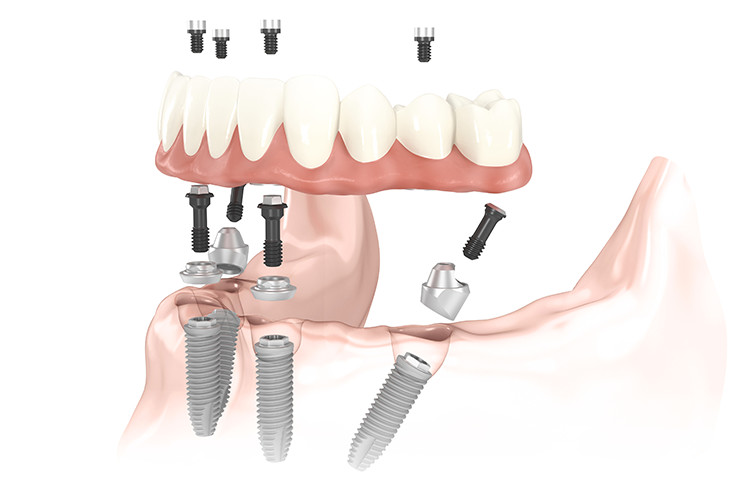 Screw Retained Dentures
Screw retained dentures are a prosthesis placed in the mouth containing replacement teeth, mounted in a base made of pink resin formed over a metal structure to create an exact fit over your existing gums. They are secured in place using dental implants, which are artificial roots placed into the supporting bone. Utilizing implants not only provides a solid foundation for the denture teeth allowing for optimal eating and speaking, but also helps to preserve the surrounding bone from shrinking over time without a tooth root structure to support it. In many cases, treatment plans will include that you are able to leave the dental office following the implant surgery with a fixed provisional denture. This fixed provisional can be used until the implants are fully integrated at which time the final fixed hybrid denture will be fabricated.
Implant Bar Supported Dentures
An implant supported milled bar that follows the curve of your jaw and attached to three to five implants that have been placed in your jawbone. Attachments are fitted to the bar, with the denture having housings with nylon inserts to retain the removable denture. The denture fits over the bar and is securely clipped into place by the attachments. This solution is an excellent restorative option for those with more severely resorbed bone. This gives the patient the ability to remove the denture for ease of cleaning.